The one thing that's certain about forecasts is that they never come true. That doesn't mean they're useless. In mature markets, sales don't change overnight and the error usually is marginal. In emerging markets, the hockey stick forecast can be too early and/or too high. By collecting curves of two or three years in a row their reliability will become clear.
Market research companies love new markets with uncertain and dynamic outlooks, since that's when they can sell and sell again their research reports to product marketeers who need to justify their new product business and investements with company management. In fact "in every new business area there's a period in which the only people making money are market researchers and conference organizers". (I call this Odijk's rule)
An alternative to buying a complete well-digestible report is to collect the snippets of data that appears in newspapers, press releases of market research firms etc. Analyze and compare data from various sources and moments in time, and most often a good picture of the market arises.
This is a page of snippets (just started: I forecast that the data will double every week, for the next 4 weeks) . See if you can get the big picture.
btw: For, often funny, forecasting mistakes see the post "wrong predictions"
Mobile devices, software and Apps
Tablet sales
The next graph by IHS iSupply is looking back, so these numbers are an estimate of actual sales.



And here's a prediction from IDC:
Chart: Worldwide Media Tablet Shipments Split by OS Historical and Forecast* 2010 – 2016 (Units in Millions)
Description: Kindle's latest performance threatens the iPad's future.
Tags: IDC, Tracker, Worldwide, Media Tablets, Media Tablet, OS, Android, iOS, Apple, iPad,
Author: IDC
charts powered by iCharts
Apps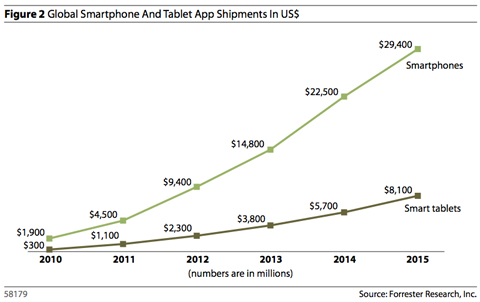 Apparently, the ww sales of apps are 11.7 B$ in 2012. If that's true, the number for 2015 number of $ 37 B makes sense. A further check shows that Gartner states 15.1 B$ for 2011, an even bigger market already.
Wireless technologies
Devices with embedded wireless local area networking (WLAN) capability
Below figure comes from a study published in April 2011 by IHS iSuppli
The growth in WLAN-enabled devices has been led by cell phones, with 512.8 million units projected to ship this year. Mobile PCs are a distant number two, with 230.1 million set to ship in 2011.
Future WLAN-enabled device growth, however, will be spurred by newer categories of embedded devices. IHS iSuppli contends that automotive installations will lead the growth curve, with a compound annual growth rate of 98.2 per cent from 2010 to 2015. WLAN-enabled televisions will be close behind, with a growth rate of 77.8 per cent during the same period.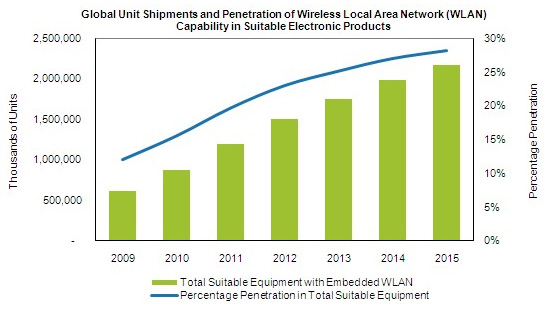 More to follow ….